Thursday, January 20, 2022
Time:
 6:00 pm
Location:
Seven Sisters Sampling Loft
RSVP
218-847-2337
Space is limited, call to reserve your spot today!


Fee:
$5 You will get a $5 coupon to use the night of the class for $5 off your purchase.
This class is free for Wine Club members.

This class is for individuals age 21+
Join us for an exploration of the amazing wines of Australia!
Unbeknownst to many, Australia boasts a long, rich history of wine production dating back to the late 1700s and predating that of the United States! Did you know that Australia is about the same size as the United States and produces world-class wine from many diverse geographical regions? From Margaret River in the west to Victoria in the east, and many points in between, stellar wines are being produced with the same passion and conviction of Napa Valley vintners.

Unfortunately, many Americans had their first taste of Australian wines with the influx of inexpensive, high volume, "jam jar" & "critter" wines in the 90s, and this typicity was equated to the Australian wine industry as a whole in the minds of many wine enthusiasts. As palates matured, Australia was, in many cases, simply left behind as their premium wines were eclipsed by the sheer volume and market dominance of the much simpler, aforementioned quaffers that hit the United States like a tsunami.

Our goal is to dispel and combat the misconception that Australian wine is somehow "less than" by putting some amazing wines in your glass and exploring just why Australia is worth another look!

So, whether you are already an Australian wine enthusiast and want to be introduced to some new gems, please join us! And, if you love great wine, and haven't opened anything from Australia in a while, this is a perfect opportunity to get reacquainted! Either way, what is better than an evening of great wine, good company, a bit of information, and a whole lot of fun!?

Our selections for the evening will include 90+ rated wines from the major publications and one 94 Point rated wine that was also awarded a spot on Wine Enthusiast's Top 100 Cellar Selections of 2021!

Come and join us for a fun evening as we sample and discuss what makes Australia unique and deserving of a place in your glass, on your table, and in your wine rack! Cheers!

This class will be led by Laura Botten of Small Lot Wines.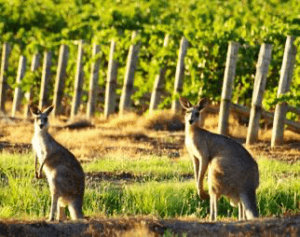 If you have any questions about this sampling, please call the store and ask for Chelsey!
218-847-2337(BEER)
218-846-9463(WINE)