Thursday, December 9th, 2021
Time: 6:00 pm
Location: Seven Sisters Sampling Loft
RSVP 218-847-2337
Space is limited, call to reserve your spot today!
Fee: $5
You will get a $5 coupon to use the night of the class for $5 off your purchase.
This class is for individuals age 21+
Meet Rockfilter Distillery
No bar nor glass should be raised alone. Founder, Christian Myrah, went from a year in a combat zone to sitting alone on a tractor. He didn't miss getting shot at, but he did miss the camaraderie. Fellowship has been founded in Rockfilter and they hope to grow that with every bottle. Rockfilter's line includes 2 Rye Whiskeys along with 4 unique Bourbons, all made locally in Spring Grove, MN.
We will be sampling the full line of Rockfilter spirits, as well as trying a few cocktails.
It will be a real treat to have founder, farmer, and head distiller, Christian Mayrah join us! We are happy to share Rockfilter with you!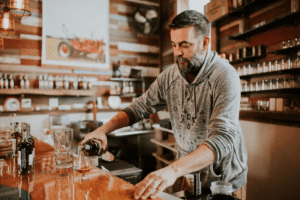 If you have any questions about this sampling, please call the store and ask for Chelsey!
218-847-2337(BEER)
218-846-9463(WINE)